Costa Rica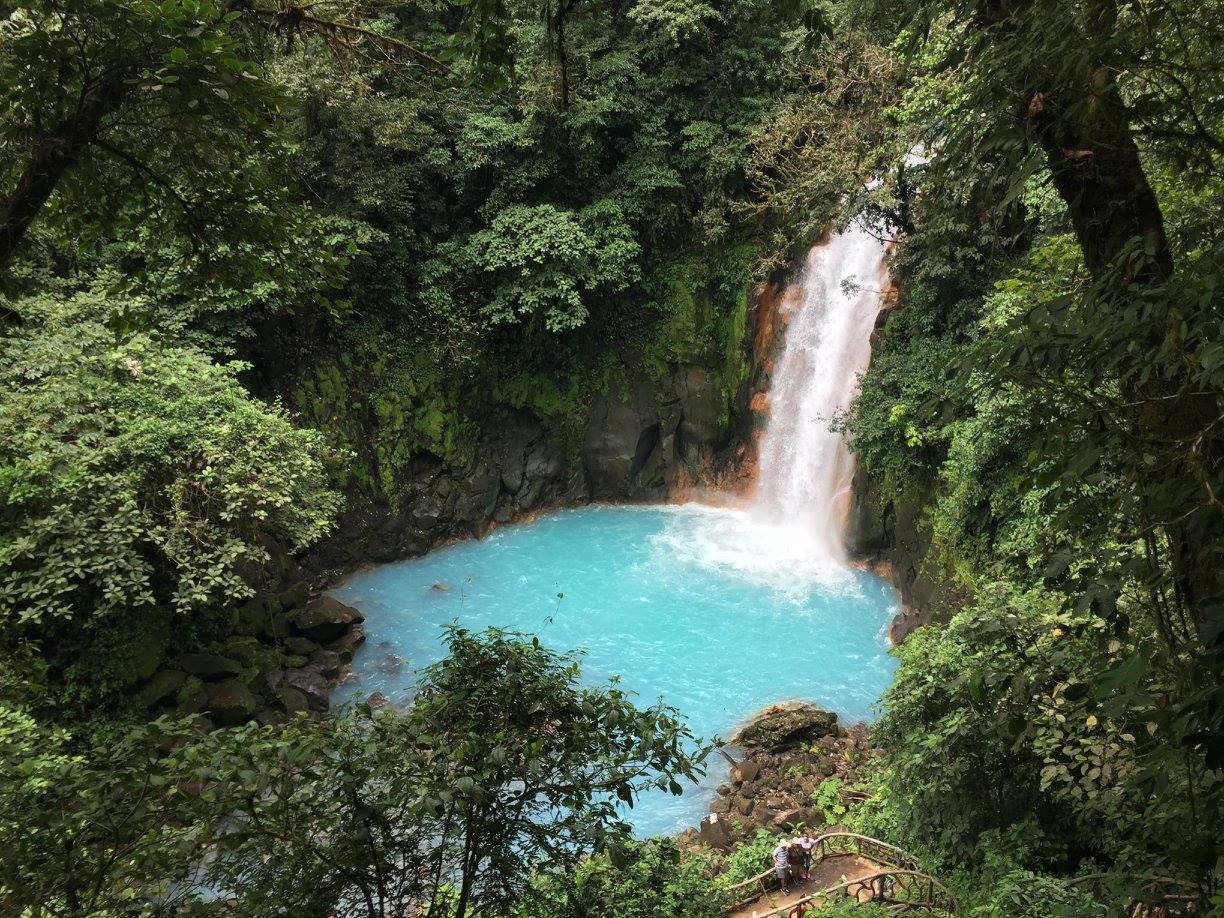 We traveled to Costa Rica in March of 2016. We spent eight days in this beautiful country and we're dying to go back!
We used Southwest flight points to get totally free flights into Liberia, which is so amazing! We also found food and lodging to be quite affordable. We had rented a small car, but the guys at the rental car company convinced us to get a larger SUV. We thought they were just trying to up-sell us and we argued with them for a while, but after we showed them our route and they explained the way the roads are, we caved. I will say – we literally would not have made it to several of our destinations without an SUV. I highly recommend renting a large vehicle!
We mostly stayed in the Northern region and on the Nicoya Peninsula. If I were to return, I would definitely skip Arenal and La Fortuna and go to Monteverde, the Cloud Forest! I really wish we'd had time to go there.
Our Itinerary:
Days 1-3: Bijuagua
I still regularly dream about Bijuagua. I have rarely felt so connected to a place. We drove our rental car far up into the jungle to this small town in the mountains. We had rented a small cabin at Cataratas Bijagua Lodge. The man at the front desk barely spoke English and us little Spanish, but we were able to communicate enough to understand there was a trail that went back into the jungle to a hidden waterfall.
That night we ate some local cuisine – arroz con pollo, a soon to be new favorite of mine – and we swung in hammocks drinking beers and listening to the loud and abundant wildlife. It was like a dream.
The next day we hiked the three or so miles down to the waterfall – and oh man, it was incredible. We had the entire jungle to ourselves. It was hot and sticky and full of wildlife! We swam in the water and then hiked back. It was the perfect relaxation location.
That night we went on a night hike with Miguel at a place that I believe is called Frog's Paradise. It's on the same dirt road that the lodge was on. Miguel was the sweetest old Tico who took us on a long journey through his jungle, showing us all of the nocturnal nightlife. We saw spiders, birds, crazy plants, and best of all – so many types of frogs! It was such a great experience. I wish I could go back and see Miguel and his frogs every year.
Days 3-5: Rio Celeste and La Fortuna
Our next lodging location was in Arenal, but on the way we stopped and hiked in Tenorio Volcano National Park. This is the home of Rio Celeste – an incredibly blue and unique river and waterfall. There are long but easy hiking trails you can take to see various parts of the park. It was definitely very busy with tourists, but worth a visit. You can't swim in this one, sadly.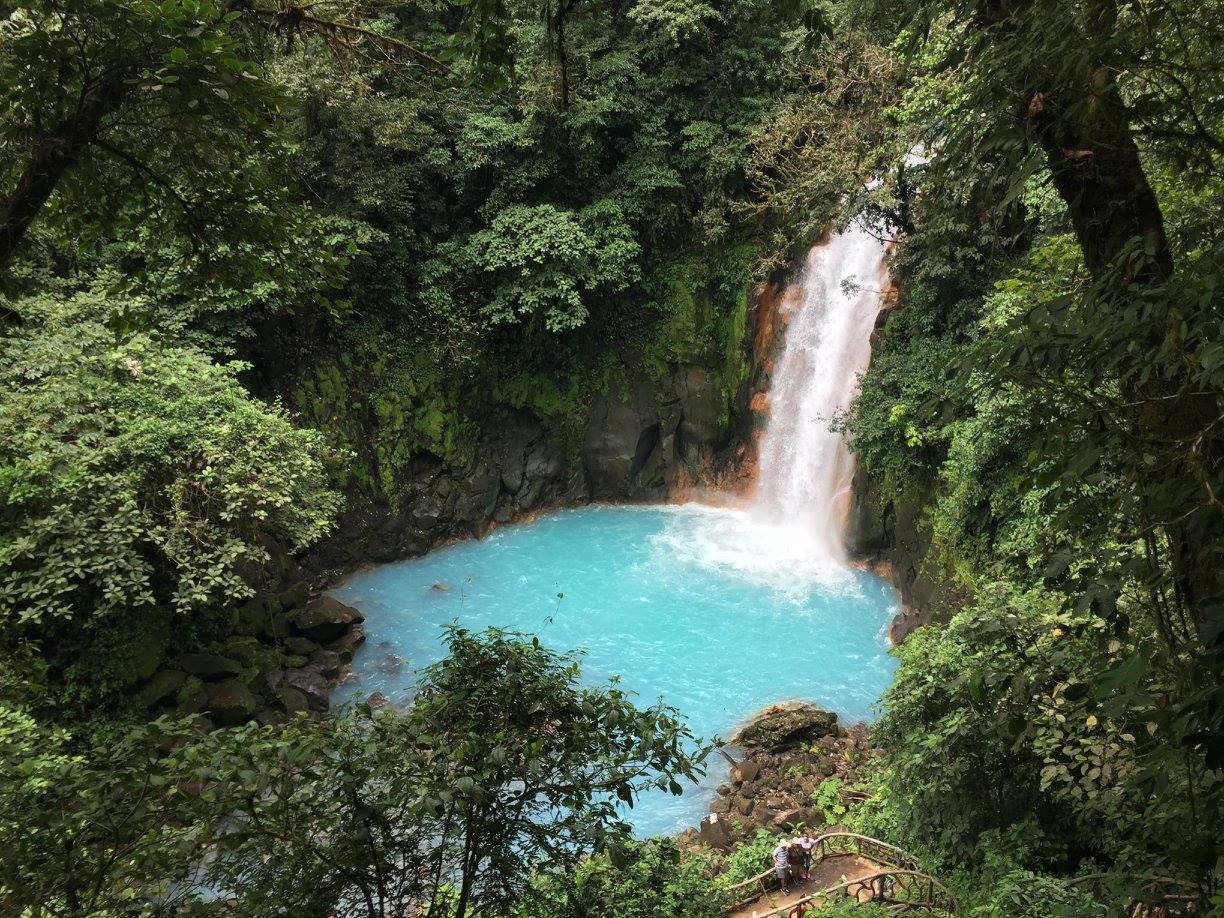 That night we stayed in another cabin at Arenal Oasis in La Fortuna. It was beautiful but nothing compared to Bijuagua. We went out that night along the town strip and found ourselves mostly surrounded by tourists. If I'm being honest, it felt like the Gatlinburg of Costa Rica. Beautiful scenery, but over priced kitchy restaurants and nothing terribly unique.
The next day we did the most exhilarating part of the trip – zip lining! We went to Sky Adventures Arenal Park. The guides were super nice, friendly, and well trained and even though it was definitely terrifying in that "I'm 600 feet above the ground on a piece of wire" kind of way, I never felt fearful or in danger. It's a very safe and well managed company and I loved every minute of that crazy experience!
We hiked the 500+ steps down to the La Fortuna waterfall, which was so lush, gigantic, and fun to swim under! Wasn't so fun climbing back up, but still very worth it.
We had booked a cheap place at a motel off the strip in La Fortuna and unfortunately we just sorta hated the area. At some point I picked up a stomach bug and quickly grew pretty miserable. We had intended to stay another night at this motel and sight see more in the Arenal area, but we decided to nix that plan and head to the beach a day early. This decision was the best of the trip.
Days 5-6: Playa Guiones / Nosara
We hadn't planned on coming to Nosara, but I'm so so glad we did! It's the quintessential Costa Rican beach town. Yoga studios and retreats, crafts sold in the streets, juice bars on every corner – it was like a beach-going hippie's dream spot. I honestly hope to retire there some day. We got a last minute room at the Guilded Iguana (which appears to have undergone some serious renovations since we were there! It was not this fancy…) and sadly I had to stay in the room most of our stay due to that gnarly stomach bug. Theron wandered through the town making friends with locals and bringing me back gatorade and medicine – bless him.
We wandered down to the beach to watch the sunset and watched the band play in the hotel yard that evening. There were several small restaurants in the area that looked great, but I dined on saltines and pedialyte.
The next morning we walked over to a great breakfast and juice spot called Beach Dog Cafe.
Days 6-8: Hotel Sugar Beach Resort
The road, or I should say lack-there-of, to Hotel Sugar Beach was intense. It was not very fun to do with a stomach bug and at some points I was a little nervous we'd get stuck, but what waited at the end was so worth it! This little resort tucked away on a private beach is affordable and worth the extra splurge.
We're not quite sure what happened, but somehow we paid for a normal room and ended up in the honeymoon suite, on the second floor of a giant house. No one was staying on the first floor, so we basically had the whole property to ourselves. It was the first time I'd ever stayed in something so luxurious and I still don't know how we got so lucky!
There were monkeys on our porch, gigantic iguanas sunbathing everywhere. There is an open air yoga area, a long gorgeous beach with comfortable chairs, gorgeous infinity pools, and a perfect sunset every night. The food and drinks here were great (though not included in the price) and the staff so friendly. They had games we could play and movies to rent. It was the perfect spot to end our otherwise very busy and active trip!
---
---