Japan Travel Guide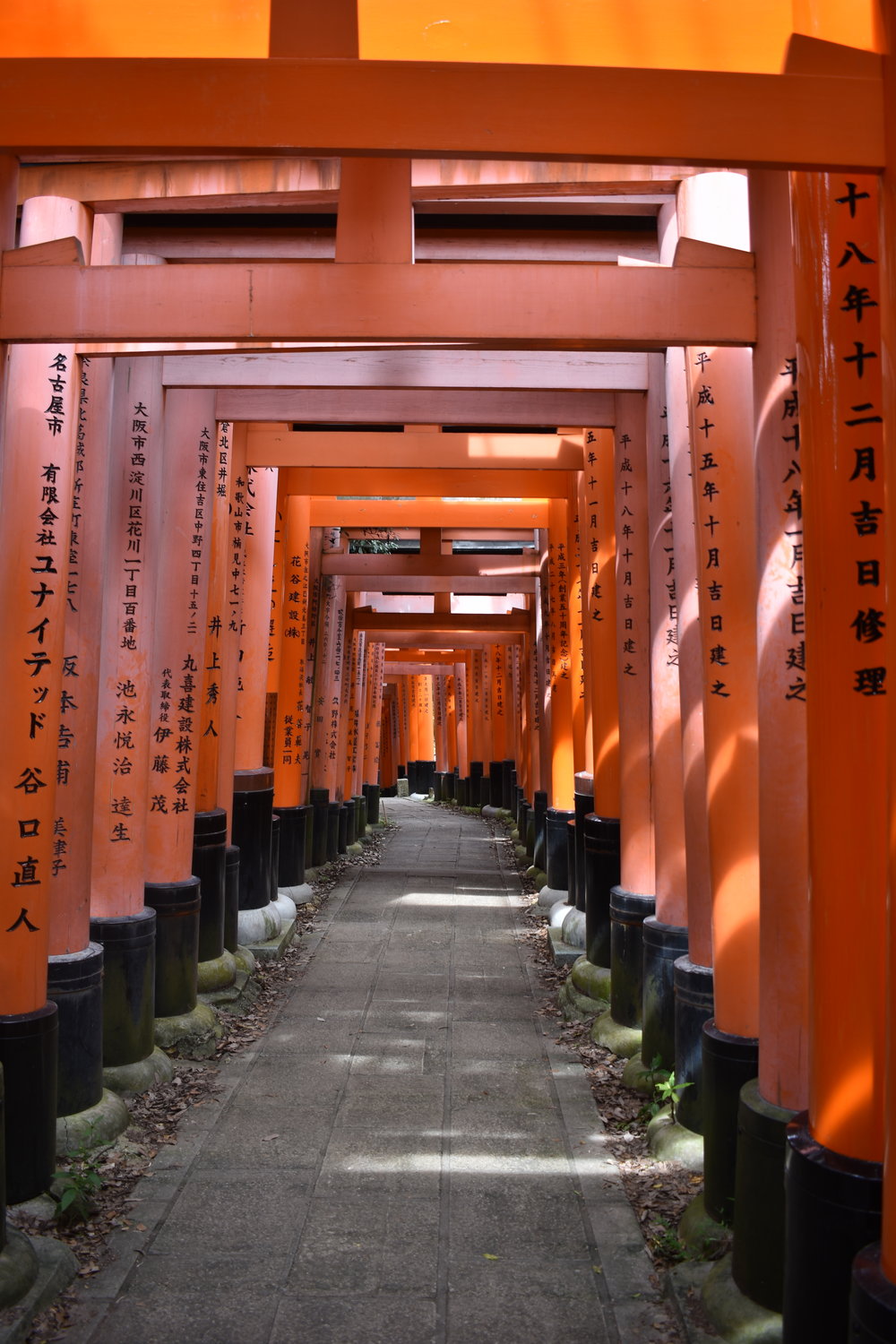 My husband and I honeymooned in Japan in September 2017. I was really reluctant at first. Honeymoon meant lounging on a beach somewhere to me for some reason, but Theron has wanted to go since he was a kid. Some friends of ours went a few months before we started planning, and their photos completely changed my mind. I am so thankful, because it was truly a trip of a lifetime! This is not exactly a food/dining guide, because honestly I couldn't tell you the names of 99% of the restaurants we went to, but we never ate a bad meal.
We had two long travel days on either end of the trip. We bought super cheap tickets on AirChina out of LA and used our Southwest points to get to LA, which was really easy! AirChina was definitely not my favorite airline, and I'm not sure I'd go that route again, but the price point made it worth it at the time!
Some notes and tips before you go:
The JR pass is 100% worth the investment. This got us nearly everywhere we needed to go, including in and around cities. The only exceptions were the bus to Kamikochi and the rail trolly up to Mount Koya.
In Japan they drive and walk on the left side, and they are very strict about the walking part. Stand on the left side of the escalator, as the right side is for passing. Follow this rule.
Tipping is not necessary.
The single absolute best thing about Japan is the Onsen, aka hot springs.
On that note, if you have tattoos, this may prevent you from entering some of the Onsen. Some may require you simply cover your tattoos.
Be prepared to eat a lot of noodles. Dietary restrictions are hard to follow, from what I found.
Remove your shoes before entering someones house, your Airbnb, or a Ryokan.
Everyone is kind and willing to help you. It is hands down the most accommodating country I've ever visited. If someone does not speak English, they will either find someone who does or draw you pictures to help you out. I was truly in awe of the hospitality and kindness.
Izakaya's are bars that often have grill food and drinks, including beers and sakes. They are indicated by a red lantern. We enjoyed basically every Izakaya we stumbled upon.
Noodles go to broth; broth does not go to noodles!
Hotel rooms are tiny. Like, TINY. Most Airbnbs or hostels have two twin beds. All traditional style rooms are just large pillows on the floor to sleep on. Not the most * romantic * of honeymoon sleeping arrangements, but it was fine.
It was impossible to capture every detail of our trip, as it was so full of incredible memories, experiences, highs and lows (anyone else ever had jet-lag tears? Man, I cried cause I missed my cat…). But I did my best to mention the highlights!
Our itinerary:
Days 1-4: Tokyo
We stayed in Shinjuku in an Airbnb near the Shinjuku Gardens and we LOVED the city (far more than I ever thought I'd love Tokyo). We could walk anywhere we wanted to go or walk to the train/subway station.
The department stores all have these gigantic food courts on the bottom floor with surprisingly delicious food. Ramen is everywhere. I mean everywhere. I've never eaten so many noodles in my life. My favorite spots were in the train stations. Everything is clean and beautiful and everyone is so polite and friendly. We went to the Meiji Shrine, out to the Gibley Museum, Shinjuku Gardens, Golden Gai area at night, and walked a LOT. We tried to go to the Imperial Gardens but they were closed. We walked so much. Theres just so much to see.
Don't miss: There is a somewhat hidden and tiny cocktail bar called Ben Fiddich in the Shinjuku area. It's on an upper floor of a building. It's somewhat hard to find, but it was hands down my favorite part of Tokyo.
Skip: Unless you're a diehard Lost In Translation fan, the bar on top of the Park Hyatt was just alright.
Days 4-5: Takayama
This was one of my favorite parts of the trip. We only stayed in Takayama for one night, but I could have stayed longer! We stayed in the "Ninja House" in Takayama. It was more traditional style rooms with tatami mats and there is a shared bathroom. We ate at a Hida Beef restaurant (where you grill it right on the table – won best beef in the world!) and then an Izakaya nearby. I proceeded to get wasted from sake after sake (it's just so good there) and we ate so much good yakitori. We made some friends with the other people in the Izakaya and it was just such a fun night.
The next day we walked along the long trail of Buddhist/Zen temples along the outskirts of town – that was my husbands favorite part. So much history!
Don't miss: There are farmers markets throughout the town on the weekends. We loved trying lots of different foods and seeing all of the local vendors.
Days 5-6 Yatsusankan Traditional Ryokan in Hida
I don't even know where to begin with Yatsusankan. It was the most magical, most wonderful, most "worth it" part of the whole trip. Staying in a traditional Ryokan is expensive, but good God almighty it's worth it.
First of all, they greet you with the most perfect cup of matcha and a sweet treat. They go over what they have to offer that day/night, show you to your traditional Japanese tatami mat rooms, and dress you in your Yukata (robes) that you stay in for the remainder of your visit.
There were full body massage chairs with no cost or time limit. There was a movie room. There was a small bar. There was a quaint little reading room. And best of all: the most amazing Onsen. There are public ones and you can also rent small private ones, where you can enter with members of the opposite sex.
There are some pretty tight rules surrounding these incredible hot springs. Here's how the Onsen work: 99% of them are gender separated, because you enter completely nude. There are dressing rooms where you undress and leave your belongings. You don't need to worry about them, because no one in this country steals. You enter a steamy room with a line of bamboo stools in front of wash basins and mirrors. You wash your body and hair in entirety with the handheld shower, using the soap and shampoo provided (it was always really great quality, I found). Sometimes there are others, sometimes you may get lucky and have it all to yourself! No one is looking at you though, and there is somehow no weird tension about being naked in front of strangers. Most Onsen we visited had many tub options – some large and overflowing, some small basins full of flowers, some rock pools outdoors. It really was probably my favorite moment of any vacation ever. It was pure relaxation.
Yatsusankan also offered a Kaiseki dinner – which is a multi course tasting of many small plates. This was the single strangest meal we had all trip, and some things were honestly a little hard to eat, but the experience was incredible. We had a small private dining room and they just brought dish after dish for us to try!
Days 6-7: Kamikochi, Japanese Alps
Ah, the mountains! Kamikochi is a small town way high up in the Japanese Alps. We did have to take a bus from Takayama to get here, but it was simple enough. There are several fancy resorts in this town, all of which looked lovely to stay, but after spending our fancy money on Yatsusankan, we were trying to experience the mountains on the cheap. We were supposed to stay in tents at the Kamikochi Campground, but it was predicted to storm that night. They were nice enough to give us one of the small cabin rooms instead.
We hiked along the river and through the woods on the well marked trails. There was a very beautiful pond on one section of the trail with lots of religious history.
There wasn't much else to do and not many places to eat around here, but it was so beautiful. My husband is very fond of Haikus, and for the first time, I wrote one while we were on the hike:
"Kamikochi Woods
They smell like home with mountains.
I like it here. Hai."
The next night, I honestly forget why, but we changed our plans and we decided to stay at an old resort called Hotakaso Yamano near Shin-Hotaka in the middle of no where in the mountains. It had one of the last mixed gender Onsen. The location was very remote, the employees did not speak English, it was nearly empty, and it seemed like it had it's hayday in the 70s and hadn't been touched since. It was an odd experience, but the Onsen were so incredibly beautiful and serene, it made the weird experience worth it.
Days 7-11: Kyoto
If you have any interest in the religious history of Japan, Kyoto is the place for you! Full of ancient temples and gardens, Kyoto is the quiet and quaint younger sibling to the bustling and modern Tokyo.
We stayed in an Airbnb in the slight outskirts of town near the Golden Temple. It had the MOST amazing plant room, but unfortunately they don't seem to have it up to rent anymore. We rented bikes with the e-assist (Kyoto is pretty hilly and this really came in handy! It is very bike friendly) and biked all around to many of the temples. There is lots of "city life" within the inner parts of the city around Gojo. We didn't spend that much time there.
Our favorite spots:
Daitaku-ji (had it all basically to ourselves!)
Ryoan-ji (very busy though)
Philosophers Path and all the many temples along it
Fushimi Inari (a tip: the bottom is SO busy and crowded, but if you continue up the whole mountain, you'll find yourself nearly alone and there are beautiful views of the city)
Nanzen-ji
The Bamboo Forest and surrounding areas along the river. We actually biked there. It was a long ride but so very beautiful.
Days 11-12: Uji & Mount Koya
Uji is the tea capital of the world! As a non-coffee drinker, this had to be a stop for us. We participated in a traditional matcha tea ceremony at Taihon (I think?) and it was so special.
Mount Koya was a part of the trip we were both very excited about, but unfortunately I think this is the part I usually tell people to skip. It was beautiful, but it took a lot of travel to get to, and it was not quite what we expected. We stayed in a Buddhist temple where we ate a traditional meal that monks eat – all vegetarian, which was nice – but it left us hungry! There is a curfew and lights out, so we turned in early and woke early, around 6am, to participate in the Buddhist prayer ceremony. It was beautiful and truly amazing to witness! Not sure all the extra travel time made this totally worth it, but it was a pretty unique experience.
Days 12-14: Naoshima Art Island area
We left Mount Koya and traveled towards the southern coast, but there was a Typhoon headed straight to where we were staying! The trains were all stopped and we had to take a city bus from one city to the small town of Uno in Tamano. We were planning on going to the Japanese Art Island "Naoshima" the next day. The city was pretty much shut down in preparation for the storm, but luckily our Airbnb, a hip artist hostel above a very hip coffee shop called Bollard Coffee, still let us stay!
We stocked up on easy food and Suntory canned alcohol from the grocery down the road and hunkered down through the storm. The sirens were going off and we had no idea what they were saying, but luckily all was alright, save for the crazy wind and rain!
We woke up the next day to a perfectly beautiful day – exactly what we hoped for! We took the huge ferry from Uno to Naoshima and rented e-assist bicycles. We traveled the whole island, seeing the pumpkin on the dock, countless artsy structures and sculptures, and best of all – the Chichu Art Museum. The entire museum is built within the earth, as not to disrupt the natural landscape. I would travel back to Japan just simply to return to this museum. There was an incredible James Turrell exhibit – similar to the one we have in Nashville but much larger, as well as naturally lit Matisse pieces and a huge echoy and other-worldy room by Walter de Maria. Photos were strictly not allowed in the museum, so photos seen here are from their website.
We also ate the best fish burgers I've ever had in my life at a small little window cafe called Maimai. Take your time on this island and really take in the sights. It's an amazing place!
We road the ferry back to Uno and our Airbnb had a local artists open mic night. We enjoyed some very interesting music!
Days 15-16: Chiba, before flight home
Our trip was coming to an end, sadly, and we were flying home out of Tokyo. We took the Shinkansen (the really fast bullet train) back to the outskirts of Tokyo, to Chiba, and we were there in what felt like no time! We even saw Mount Fuji peaking through the clouds on the way.
I can't say enough wonderful things about this trip and this country. Thank you, especially, to everyone who gifted us honeymoon fund money for our wedding in lieu of a physical gift. It allowed us to really enjoy ourselves without the stress of spending too much money – and the trip was truly once in a lifetime!
---
---