Sydney, Australia Guide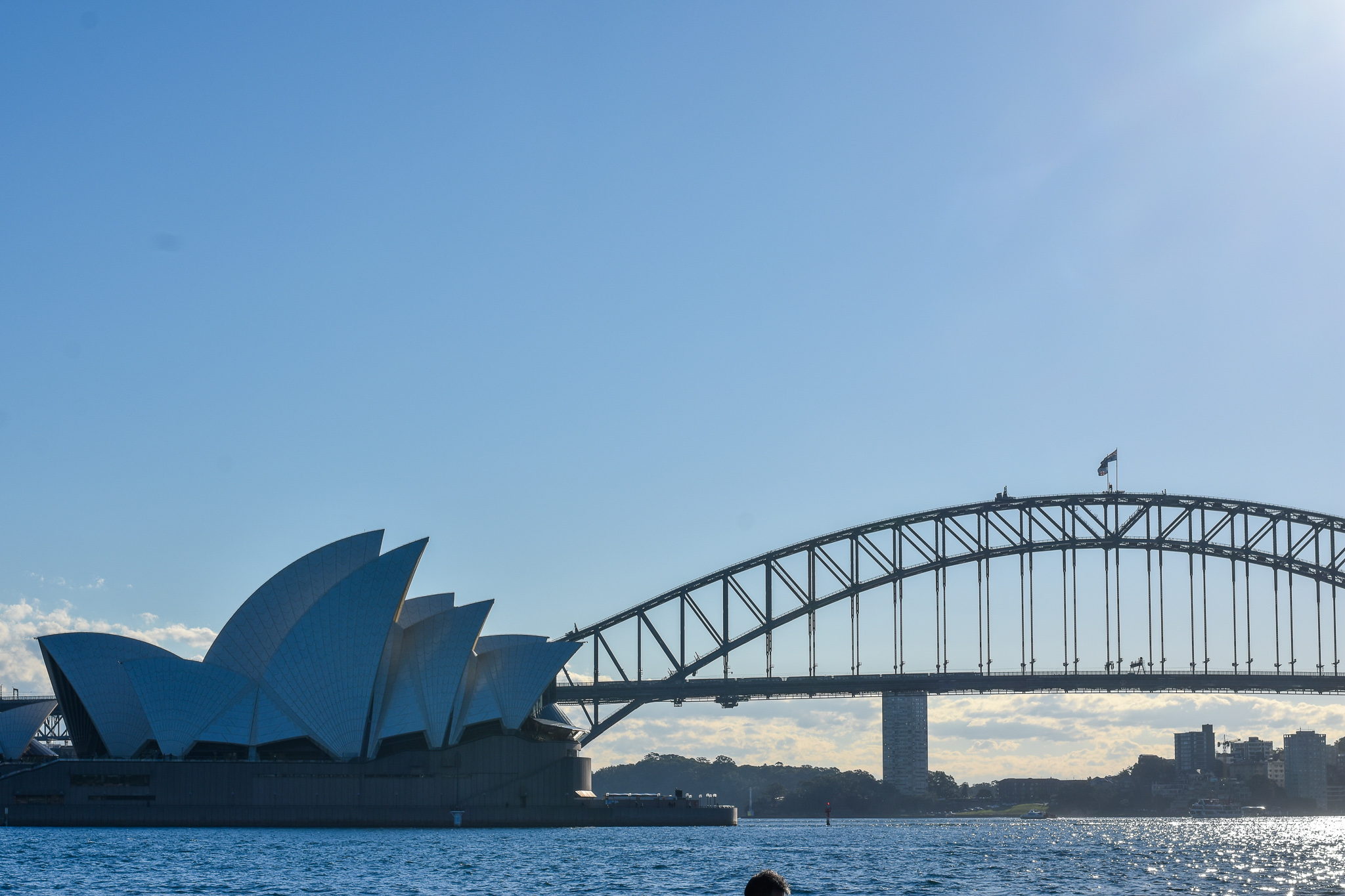 SYDNEY, AUSTRALIA
I was lucky enough to tag along with my husband for his 2 week work trip to Sydney, Australia. The trip was pretty last minute, and I didn't have the chance to spend months planning out exactly what to do (which is what I usually do for trips). Whenever we go on international trips, I like to have some sort of itinerary in place. I don't care if we don't stick to it, but I like to have a plan. Because we were in Sydney the whole time (another thing we never do – stay in one place!), I had zero plan and zero expectations. It turned out WONDERFULLY.
We were there in the "winter" – which I put in quotes because the highs were in the 60s, I was still able to swim (though it was very cold!), and it was all around pretty mild. The sun did rise late and set early, but I never felt like I didn't have enough daylight to do what I wanted.
I am AMAZED by this country and it's advanced outlook on health. There are SO many healthy, nutrition-focused cafes and restaurants, it was impossible to get to them all. Each neighborhood has their own unique places, all with great menus and locally sourced items. They put a real focus on using healthy oils & grass-fed meats. The options are generally vegetable heavy, all around healthy meals. They definitely aren't cheap, but nothing in this country is! Even the more unhealthy options we dined at seemed high quality (if there is cashew cream and edible flowers on the menu, my husband probably won't go).
Everyone here seems friendly. Public transportation is amazing. There is always a bus or a train to catch, but if that isn't your style, Uber is here as well. The beaches are the most beautiful beaches I've ever seen with the most crystal clear water imaginable. I heard a lot about the wildlife, but I honestly didn't see much of it. Downtown is clean, the parks are beautiful, it really just doesn't get much better for such a big city!
I've put together a list of my favorite restaurants & things to do in the area. We were here for 2 weeks, but I honestly saw everything I wanted to see within the first. Be prepared to spend a lot of money on food, BUT, tipping is not expected and tax is included in the price you see! If your avocado toast and eggs for $18 seems ridiculous, remember that the AUD is higher than the USD, tax is included, and there is no need to tip.
Getting Around
Stop in one of the many convenience stores around and buy an "Opal Card" (check out this site to find retailers near you). This is your ticket around the city. Bus or train rides are generally between $2-3.50 a trip, depending on how far you go. Download the Opal Travel app and you can reload ("top off" as they say) your card at any time. Use this app for the most accurate bus and train routes and times. Just tap on with your card when you hop on, and tap off as you exit!
A few things to note:
Be sure to flag the bus driver – they won't stop unless they know you want to get on their bus!
Driving AND walking happens on the left side of the road/sidewalk – be sure to stay to the left when walking around to avoid collisions and angry Aussies 🙂
Healthy & Nutrition Focused Cafes and Restaurants
Ora, Manly Beach
https://www.oramanly.com.au/
Ora blew me away. The walls are covered in quotes from Sally Fallon, the author of "Nourishing Traditions" – a cookbook we are studying through Nutritional Therapy Association! There is detailed information about why soaking & sprouting grains and nuts is important, information about fermentation, importance of using grass-fed meats and pasture-raised poultry, the list goes on. I got the veggie loaded tacos and they were so good and filling, I couldn't even finish it. I also had a nice pot of digestive-blend tea. The vibe was great and the food even better. I couldn't recommend this place more
Bondi Wholefoods, Surry Hills
https://www.bondiwholefoods.com.au/
Another one that blew my mind. Similar to Ora's walls, they had books about nutrition and the importance of eating whole and real foods out on tables that you could read. The menu was overwhelmingly great and I had a hard time choosing! I ended up going with the kim-chi pancakes with cashew cream, avocado, poached eggs, and greens. It was so good and filling that again, I had trouble finishing it!
Two Good Eggs, Surry Hills
https://twogoodeggscafe.squarespace.com/
Two Good Eggs is the first place we went as soon as we got to Sydney. It was so good that we returned a second time, and I'm honestly a little sad I didn't go more often. Theron had the salmon benedict which looked amazing, but my choice stole the show! Toasted locally made sourdough with pesto, grilled prosciutto, perfectly poached eggs, roasted tomato wedges, and big slices of fresh Parmesan cheese. I'm still dreaming about it.
Orchard Street, North Bondi, Paddington, or Bronte
http://www.orchardstreet.com.au/
A little tea and elixir shop with amazing raw desserts and even a full food menu, Orchard Street was the perfect spot to have some tea and a treat. I didn't order from the menu, but everything looked good! I had a raw chocolate matcha bite and some of their "boost" herbal tea blend. They sell elixirs, candles, tea blends, etc. It was hard not to buy out the whole shop.
Speedo's Cafe, Bondi Beach
https://www.speedoscafe.com.au/
This place is a food blogger/instagrammer's heaven on earth. Everything is so delicately prepared and plated, made even more beautiful with vibrant colors, avocado roses, and edible flowers. I ended up taking my food to go (or as the Aussie's say, "take away") and was a little disappointed that the take-away option had no presentation factor, but it was delicious and nutrient dense nonetheless. I had the grilled salmon salad with black rice, avocado, and a miso dressing. It was killer!
Bread & Circus, Alexandria
http://breadandcircus.com.au/
Large tables, fresh produce on display, and an open air feel – Bread and Circus was a great healthy spot. I had the breakfast salad and it was super fresh and crisp. It's also right next to Pana Chocolate, so be sure to hit that spot up too 🙂
Pressed Juices, Bondi, CBD, Mosman
https://www.pressedjuices.com.au/
I caught a pretty gnarly cold at the end of the trip and I knew I needed some kind of immune shot to help. Pressed Juices sells 100% juice ready to go, and they had lots of different types of elixir shots! I got the immunity one – ginger, orange, lemon, turmeric, black pepper – and it was actually pretty good! I also had a green juice and it tasted fresh and great.
Celsius Coffee Co., Kirribilli Wharf
http://www.celsiuscoffeeco.com.au/
Take the ferry from Circular Quay to Kirribilli and enjoy some delicious food right over the water!
Other healthy places I did not get a chance to try but wish I had:
Clean Treats Factory
The Nine
Bare Naked Bowls
Bennett Street Dairy
The Farm Wholefoods
Other Delicious Restaurants
Chin Chin, Surry Hills
https://www.chinchinrestaurant.com.au/sydney/
This thai-inspired dinner was SUCH a culinary experience. It's on the second floor of a corner building, with that bare-wall & neon lights industrial feel. The bar is beautiful and looks into the open kitchen. We sat at a table and ate more food than I thought imaginable. Nothing disappointed. Do not miss the Duck Larb if you like spicy food! The cocktails were great and the flavors from each dish we ordered were incredible.
Flour Eggs Water, Surry Hills
http://floureggswater.com.au/surryhills/
A homemade pasta restaurant to write home about. The atmosphere is very bright and vibrant. The calamari was perfectly crisp. I had the pappardelle with melt-in-your-mouth roasted beef with a thick sauce that I'll dream about for years.
Pizza Birra, Surry Hills
http://pizzabirra.com.au/
On Monday's ("Fat Monday") Pizza Birra does an "all you can eat" style night. It's not exactly how it goes in America, though, which forced us to slow down and enjoy the meal. Servers walk around every so often with different types of pizza and you can opt for a piece or pass. It was really delicious! Also great cocktails.
Flour & Stone, Woolloomooloo
https://www.flourandstone.com.au/
THE best bakery in Sydney! I had a pot of tea and the salted caramel chocolate tart and it was divine. I got Theron a raspberry tartlet that was also so good. They have full sandwiches, rolls, and breads as well as sweet treats. Don't miss this spot!
Fishmongers, Bondi Beach
http://fishmongersbondi.com.au/
The best fish-n-chips I, or Theron, have ever had. I got the grilled hoki and Theron got the battered. It was perfectly seasoned and so fresh! It comes with a huge bowl of fries and some thin shaved fried sweet potato chips. The perfect lunch at Bondi!
Mary's, Newtown or CBD
http://www.getfat.com.au/menu/
Mary's has a very limited menu, but if you find yourself craving a burger and fries, don't settle for anything less than this place. The CBD location is take-away only, but the Newtown location is a full bar!
The Winery, Surry Hills
https://thewinerysurryhills.com.au/menu/
An awesome place to grab a happy hour cocktail in their beautiful garden terrace. We enjoyed a great dinner inside. I had grilled tuna with fresh green beans – a great light and healthy meal! This place definitely has some "vibes" they're going for – it is loud and dim but we liked it.
Barzura, Coogee Beach
https://www.barzura.com.au/
Good spot to grab breakfast before you start the Coogee to Bondi walk! Have a seat outside and overlook the beautiful ocean and enjoy a warm breakfast to fuel your day.
Other places I did not get a chance to try but wish I had:
The Grounds of Alexandria
Fishbowl Sashimi
Jackie's Paddington
Hotel Palisades
Mr. Wong's
Chester White
Bodhi
Lox Stock & Barrel
Things To Do
Blue Mountains
Spit Bridge to Manly Walk
Coogee to Bondi Walk
Hyde Park & CBD
Sydney Harbour and the Opera House
The Rocks Market
Ferry to Manly
Manly Surf School
Swim at any Rocks Pool
Darling Harbour
University of Sydney
Class Pass: KX Pilates, Be One Yoga
Best Beaches: Manly, Tamarama, Bronte, Coogee. Of course Bondi, but much more popular
---
---