Low-FODMAP New Orleans Gumbo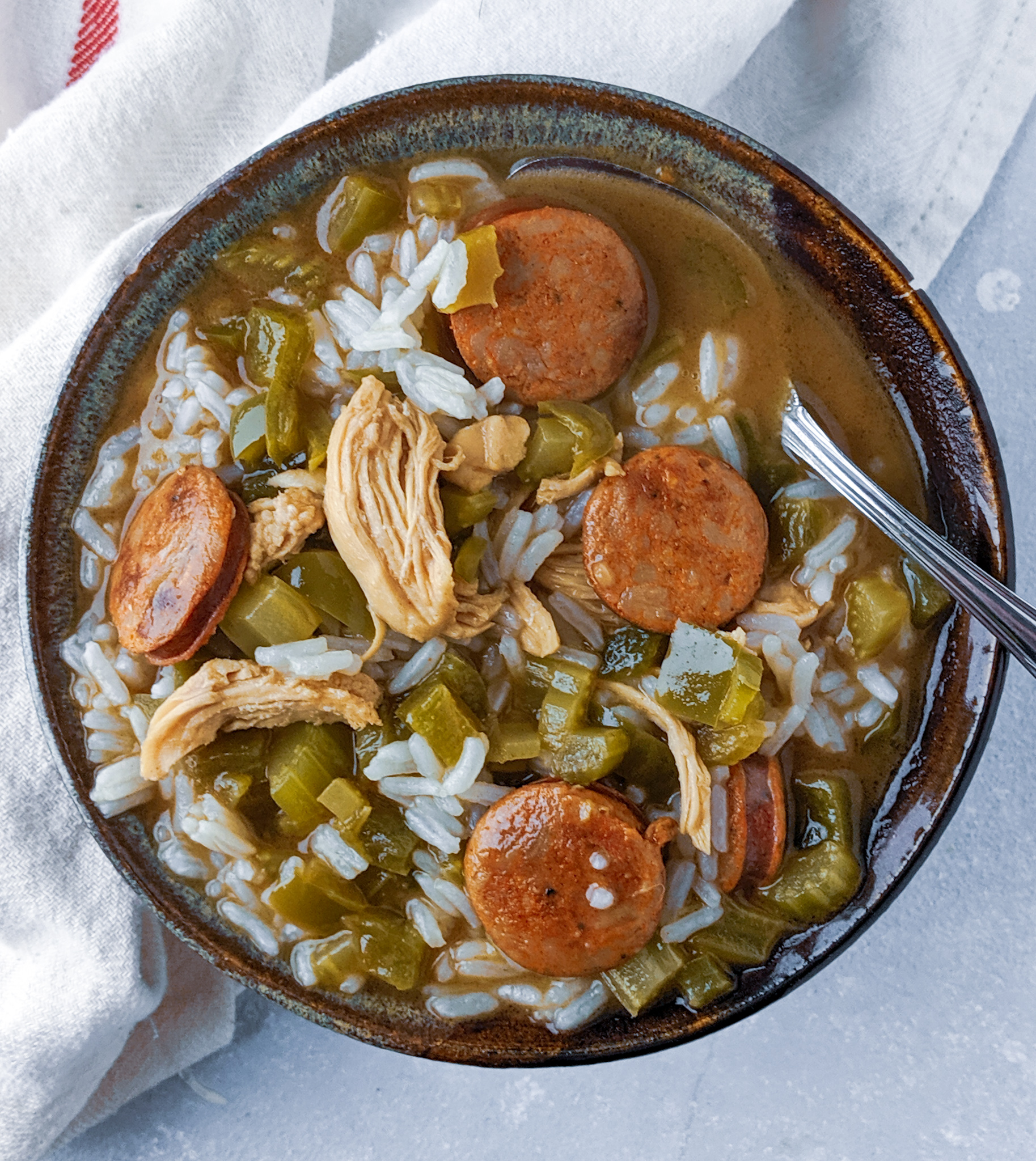 I grew up in South Louisiana, as did my parents and their parents and even their parents' parents. We take our food very seriously, especially our gumbo. I am a snob about it when I leave Louisiana, a flaw of mine, but I can't help but compare to how it is back home. If it doesn't start with a roux, I am probably not that interested. New Orleans gumbo is the best, in my opinion!
The word "gumbo" actually comes from an Angolan word "kingombo" which means okra! I actually really do not like okra in my gumbo so I leave it out, but it is a popular addition. This is an African dish that cajuns and creoles have adopted and adapted based on what they had on hand. The cajun "trinity" is onions, bell peppers, and celery. This differs from the French version of "mirepoix" which is onions, carrots, and celery, because way back in the day the settlers of south Louisiana did not have access to carrots! A little bit of food history for you.
People all over Louisiana have different methods of eating gumbo – some with okra, some with tomatoes, some with potato salad (yes, for real). Everyone has their own way – but this New Orleans gumbo way is the way I grew up eating it!
I have a pretty horrible stomach reaction when I eat onions and garlic, which is the base of SO many New Orleans recipes. I was so sad at first but I've learned to make all my favorite recipes without them.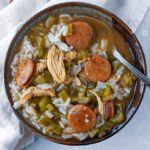 Print Recipe
Low-FODMAP Louisiana Gumbo
This is legit Louisiana gumbo but made without onions, garlic, or wheat. There is still a legit roux, just with gluten free flour. All subs are listed to make this even more traditional and not low-fodmap.
Ingredients
Roux Ingredients
1

cup

neutral oil

avocado, vegetable, or light olive

1 1/4

cup

gluten free 1:1 all purpose flour

sub normal flour if no wheat/gluten sensititvity

1 1/2

cup

bell peppers

diced

1 1/2

cup

celery

diced
Gumbo Ingredients
1

whole

rotisserie chicken

picked

1

lb

andouille sausage

sliced

8-10

cups

water

celery and carrots

for stock

2-3

bay leaves

Salt, pepper, cayenne

to taste

8

cups

cooked white rice
Instructions
Make your stock and cook the sausage:
Shred and pick your rotisserie chicken and set aside. Place all bones, celery, carrots, and water in a very large stock pot. Add some salt, bring to a boil, cover, and bring down to a low simmer. I generally let this simmer a couple hours.

Slice your sausage and brown in a cast iron skillet or large pan. Set aside.

Strain out the bones and vegetables from your stock, keeping it simmering at a low heat while you make your roux.
Make your roux:
Set your diced veggies next to the stove.

Prepare to stand over your stove for quite a while.

Bring a medium non-iron pot to medium/high heat and add the oil. Add in your flour as well, whisking constantly. Never step away from your roux!

I alternate between a wooden spoon and a large whisk – moving in figure 8s, around in circles, swirls, back and forth… making sure the keep every inch of the roux moving. If any bits stick and burn, you must start over!

Continue to stir and whisk on medium/high heat, bringing the heat down a little every 5-10 minutes. After about 5 minutes I often add a bit more flour, especially when working with gluten free flour.

Continue on low heat for about 30 minutes, or until roux is thickened a bit and has a nice chocolately brown color.

Once the roux is the color you desire, remove from heat (but keep stirring!) and once it has cooled down a little, add in your vegetables. It may spit and pop a good bit, so be careful! Continue stirring together. This is your roux.
Putting the gumbo together
Slowly incorporate your roux into your simmering stock. Add in large spoonfuls at a time, making sure it is fully incorporated into the stock before continuing – you don't want big clumps of roux floating around. The gluten free flour in the roux can sometimes take a little extra effort to incorporate. Using a whisk helps.

Add in your chicken and sausage to the roux/stock. Add in spices and bay leaf and allow to simmer for at least an hour, stirring occasionally.

Serve over white rice with some Crystal hot sauce!
Notes
If you are not low-FODMAP, I'd highly suggest using 1 cup onion, 1 cup bell pepper, and 1 cup celery in your roux, as well as adding several minced garlic cloves.
---
---