Roasted Squash Ricotta Ravioli for Beginners by a Beginner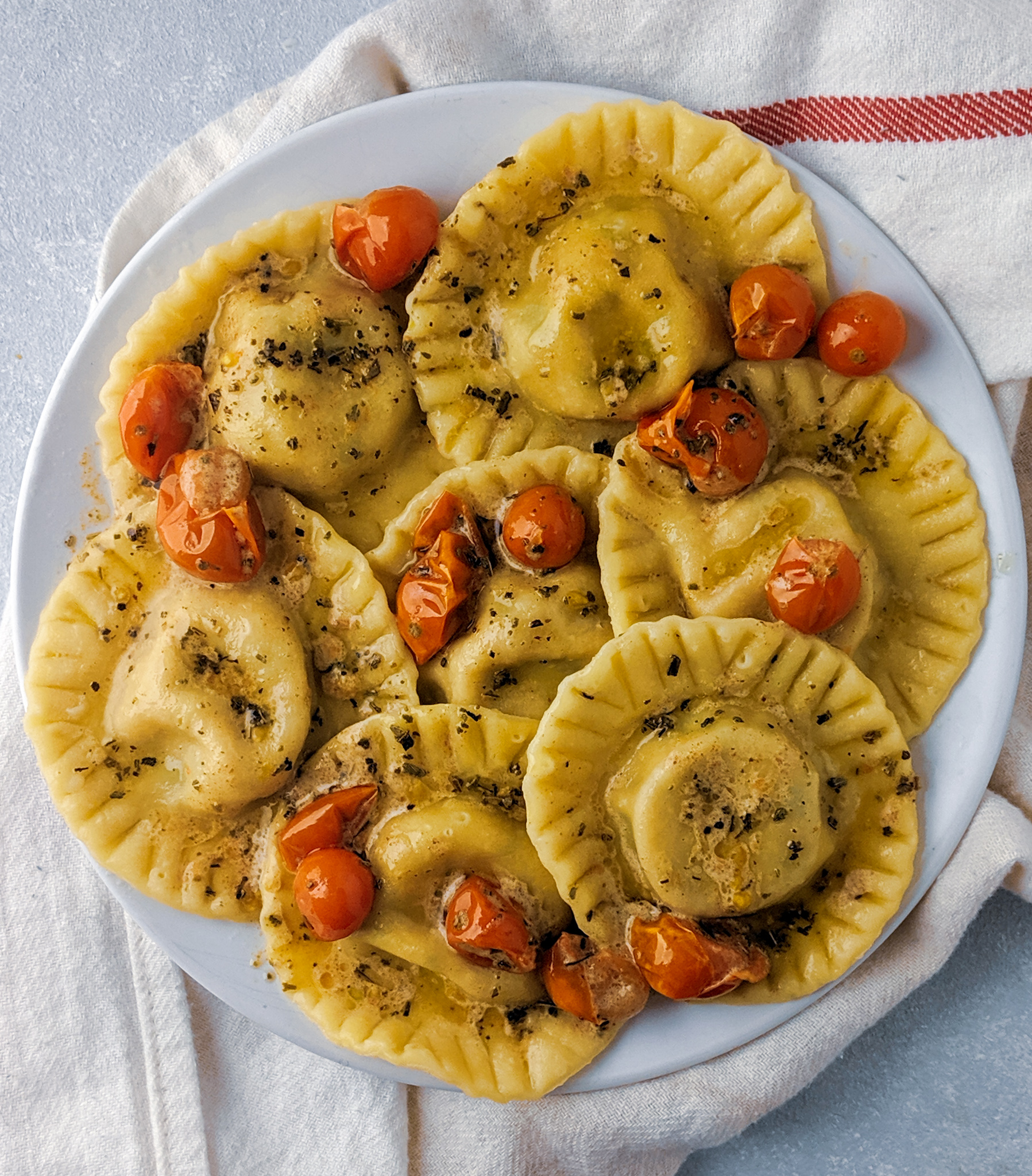 Full disclaimer: this was my very first time ever making pasta from home. I also do not have a pasta maker, so I rolled it all out by hand! I read a few different guides and explanations and sort of came up with my own plan for it, shown below. I was winging it most of the time and it was pretty time consuming to make ravioli. Next time, I'm definitely going to just make spaghetti or something more simple! This isn't one of my typical "easy weeknight dinner" type of recipes – but it really was so so delicious that I thought it was worth posting! I hope you find this helpful, and be on the look out for more pasta recipes in the future!
RECIPE
Servings: 3-4
Ingredients
Pasta Ingredients:
-2 3/4 cup (350g) all purpose flour
-4 large eggs
-1 egg yolk
-1 tbsp extra virgin olive oil
-Pinch of salt
Filling Ingredients:
-1 butternut squash, peeled and chopped
-1 cup lacinato kale, diced
-2 cups whole milk ricotta
-1/2 cup parmesan
-1 tbsp extra virgin olive oil
-1 tsp sea salt
*Note: this will make WAY more than enough filling. I highly suggest making stuffed shells with the remaining filling! Or maybe even a lasagna!
Sauce Ingredients:
-1/2 cup butter
-1 tbsp dried sage
-1 pint small cherry tomatoes
-1 tbsp heavy cream
Instructions
Pasta Dough: (see photos below for a visual explanation!)
Add the eggs, olive oil, and salt to a small bowl and set aside. Grab a bench scraper and keep it close – this will help in the end, or if you break the barrier of your flour mountain.
Create a mountain and a crater out of your flour that will be big enough to hold all of the rest of the pasta ingredients.
Add the remaining ingredients to the crater and use a fork to slowly and carefully break up the eggs and whisk them together.
Slowly pull in some of the flour from the crater and incorporate it into the wet. Be careful not to break the barrier, but it you do, don't freak out! Grab your handy bench scraper and push the flour up the walls to reform the barrier. If all hope is lost on the barrier, simply start to work everything together at this point.
If you don't break the barrier (I definitely did), then once the flour and wet ingredients have all come together, roll it up into a ball.
Knead your dough for 10 solid minutes. This is tiring but it is worth it and necessary! After the 10 minutes your dough should be a deep yellow, smooth and soft to the tough ball of tight dough. Wrap it in plastic wrap and let it rest for 1 hour. This rest is crucial!
Filling:
Roast the butternut squash cubes at 425 for about 30 minutes, until softened and browned. Remove from the oven and allow to cool.
Mash the squash with a fork or a potato masher and combine with remaining filling ingredients.
Fill a piping bag or a large ziplock bag with the corner cut out and set aside.
Ravioli:
Cut your rested pasta dough into 4 equal pieces. On a well floured surface, roll out two of the dough hunks as thin as you possibly can in equal shapes. This is where a machine comes in handy because this was exhausting and sort of hard – but you can do it!!
Pipe out about 8-9 heaping tablespoons of filling a few inches apart from another on one sheet.
Take the second sheet and lay it on top. Press out any extra air around the filling.
Use a mason jar lid or a biscuit cutter to stamp out the individual ravioli. Press the edges closed with a fork.
Repeat with the second two hunks of dough.
Bring a large pot of water to a rolling boil and cook your ravioli for 5-7 minutes, until dough has softened. Remove with a slotted spoon. You may need to do this in 2 batches to not overcrowd the pot.
Sauce:
Melt the butter on medium heat and stir constantly.
As soon as you see it begin to brown some, about 3-4 minutes in, add the sage and the tomatoes. Continue to stir until the butter has browned (but not burned!) and there is a nice nutty smell coming from it.
Whisk in a bit of heavy cream to give it some body. Crush the tomatoes. Pour on top of the ravioli and enjoy!
---
---