Savory Cheesy Sun-dried Tomato Babka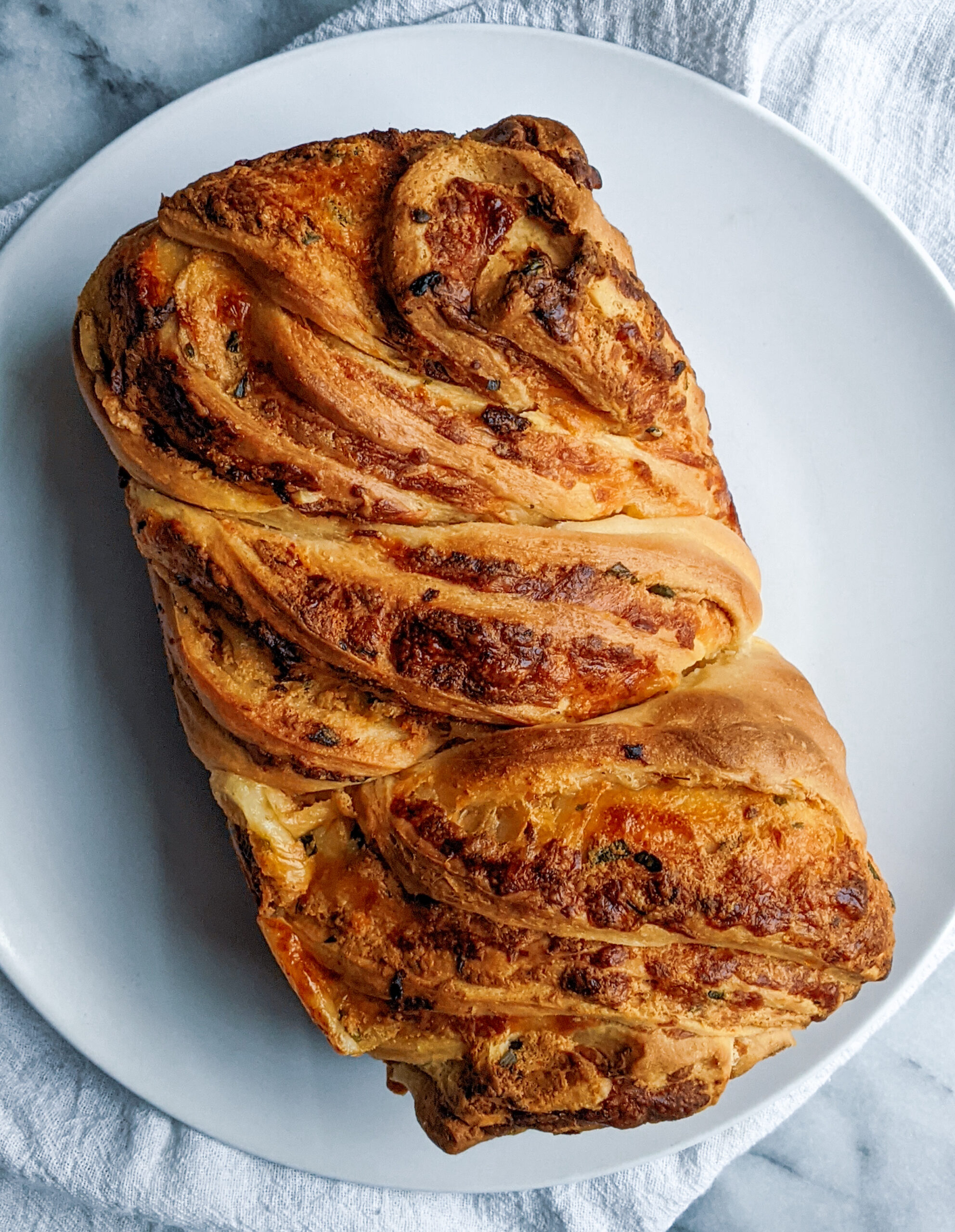 I love a sweet babka, but this savory cheesy sun-dried tomato babka was next level delicious. One of my favorite sweet bakers to follow is Erin at Cloudy Kitchen. This recipe uses her babka dough as the base, with a few very minor tweaks, and then deviates from there for a savory delicious cheesy bread.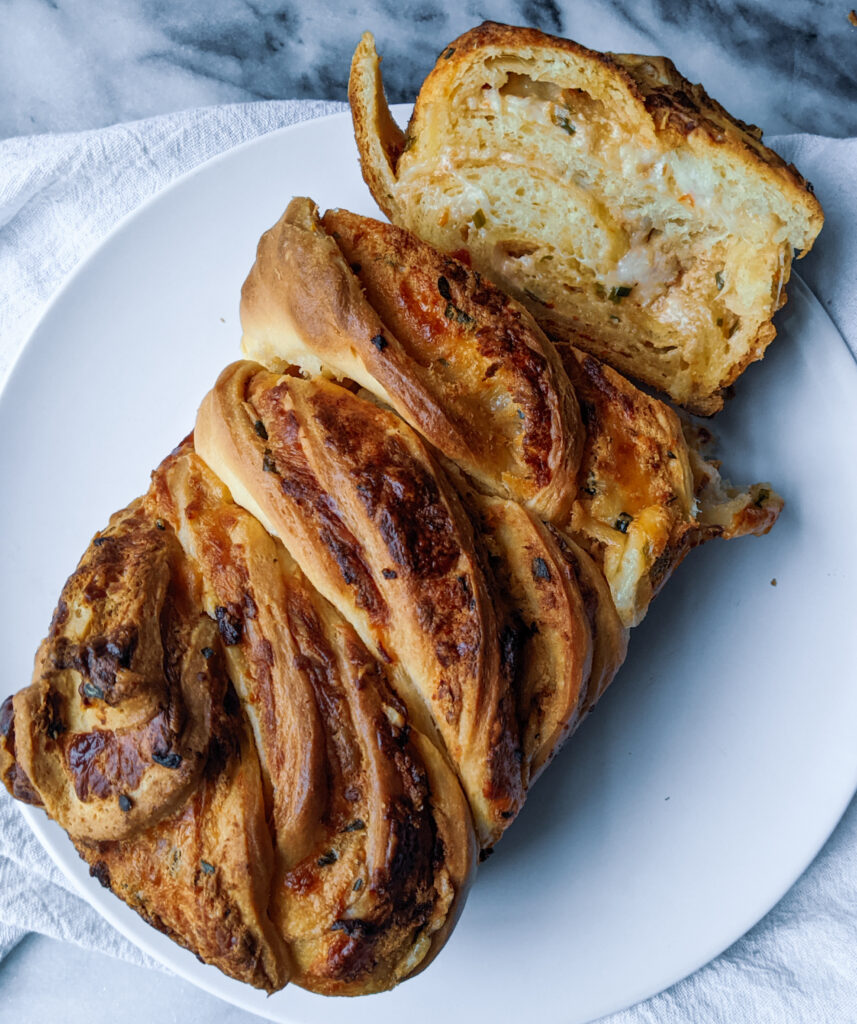 This one takes a little patience with two 1-1.5 hour proofs and one 45 minute chill, but it is SO worth it! Plan ahead for this one – it takes most of the day. Even mixing the dough takes up to 30 minutes. I promise it's all worth it for the cheesy babka goodness.
Again, this dough is from this Chocolate and Espresso babka from Erin at Cloudy Kitchen and I HIGHLY suggest you make this one too if you have a sweet tooth! She does everything in grams which I also highly highly recommend doing, but I know not everyone has a scale (though you should get one!) so I did my best on rough translations. Seriously though, just get a scale.
This makes TWO loaves! Bring one to a friend! Or eat both.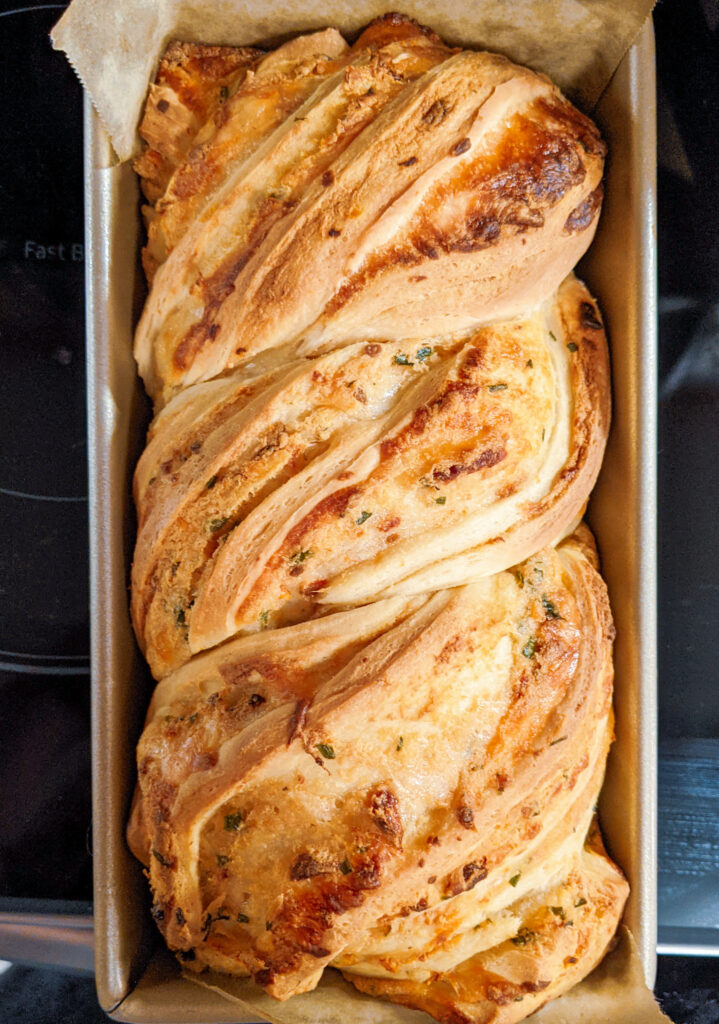 Ingredients:
250g (roughly 1 cup) whole milk, warm
2 1/4 tsp (1 small packet) active dry yeast
4 tbsp sugar, divided in two
565g (roughly 4 1/2 cups) all purpose flour
1 tsp kosher salt
2 eggs
1 stick salted butter, room temp
Start by whisking the warm milk, yeast, and 2 tbsp of the sugar together and set aside for 10 minutes or so, until mixture is foamy.
Add all of the flour, remaining 2 tbsp of sugar, and 1 tsp salt to the bowl of a stand mixer with a bread hook and add in the foamy milk/yeast/sugar mixture. Crack in the two eggs and beat on low until mixture comes together – a few minutes.
Beat for 10 minutes on medium speed.
Reduce speed to low and slowly add in the butter, about 1 tablespoon at a time. Wait until it is mostly incorporated before adding the next. This may take several minutes. Once it's all added, beat on medium speed for another 2 minutes or so, until dough is uniform.
Place in a large greased bowl, cover with plastic wrap or a tea towel, and place in a warm spot to rise for about 1 to 1 1/2 hours.
Sun-dried Tomato Cheesy Filling
Ingredients:
8 oz cream cheese, softened
1 stick salted butter, softened
1/2 cup sun-dried tomatoes (in oil), drained and diced finely
1/4 cup of either garlic greens OR green onions OR chives, diced finely
8 oz shredded mozzarella cheese
In the bowl of a stand mixer with the paddle attachment, beat the cream cheese and butter together until whipped and airy – a few minutes. You'll need to scrape the sides of the bowl halfway through.
Add in the sun-dried tomatoes and the aromatic greens and beat together another minute or so. You want this mixture spreadable!
Assembly
Remove the babka dough from the bowl and roll it out on a lightly floured surface to roughly 24 inches by 16 inches.
Spread the filling across the entire babka dough, all the way to the edges. Top with the mozzarella cheese – the more the merrier!
Roll the dough tightly, find the center, and cut it in half with a sharp knife. At this point I like to line them up and cut the wonky edges off as well, if there are any.
Place the two rolls on a baking sheet and place in the fridge for 30-45 minutes. This will make the next step MUCH easier.
Remove from the fridge and cut each roll down the middle long ways with a sharp knife. Flip one of them around (I have found this always makes for a more even loaf) and twist the two together, with the open side facing up. Do again with the second loaf.
Place the loaves in greased or parchment lined bread loaf pans (mine are a little smaller than a 9×5 size). Place in a warm spot to rise for 45 minutes to an hour.
Preheat oven to 350 degrees while the loaves are on their second rise. Bake for about 40-45 minutes, until nice and golden and the insides reach at least 190 degrees (I use my meat thermometer to check).
Brush with olive oil while they're still warm.
Enjoy!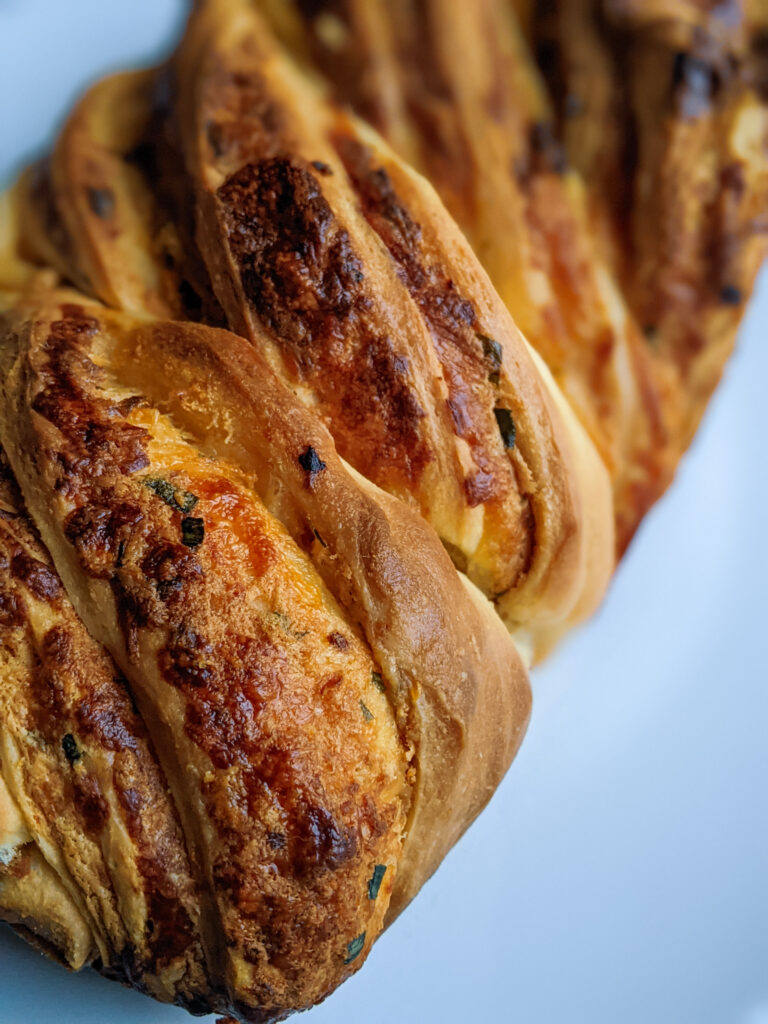 ---
---