Traditional Chicken and Sausage Gumbo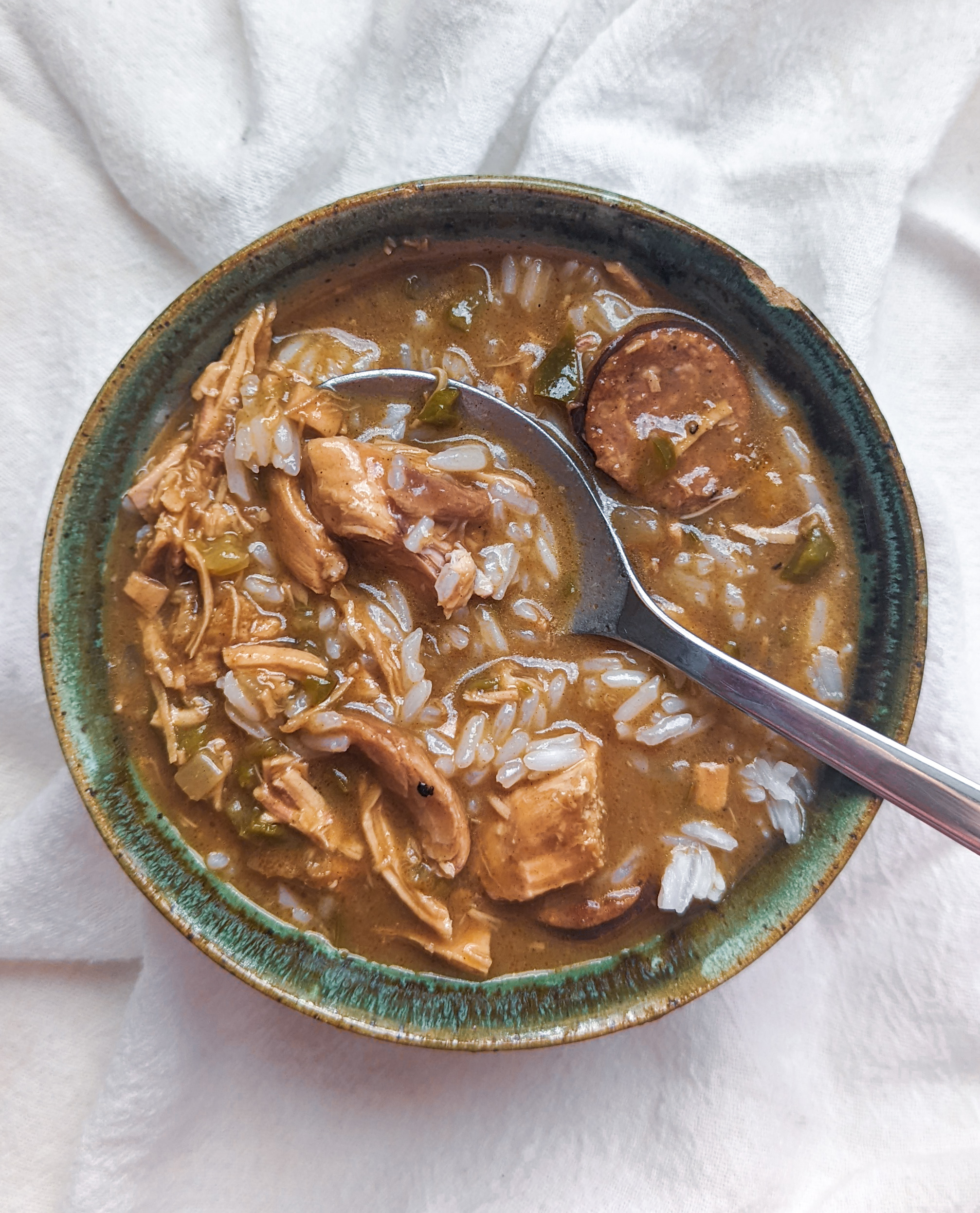 Traditional versus Low-FODMAP
Being from New Orleans, I knew I needed to have a traditional chicken and sausage gumbo on my blog. If you've been following for a while, you'll know I used to follow a low-FODMAP diet. Gumbo is one of my favorite things but it usually includes garlic, onion, and wheat flour – three big no nos on the fodmap list. I made a low-FODMAP version of gumbo but here is a full scale traditional version!
What is Gumbo?
Gumbo is a south Louisiana food that originates in West Africa! Gumbo comes from the African word "ki ngombo" which means okra – the vegetable often used in gumbo for thickening. Personally, I don't like okra in my gumbo. You'll find both sides of this opinion in Louisiana. This recipe does not include okra.
Gumbo is NOT gumbo without a roux! A roux is an equal combo of fat and flour – there are different kinds of roux for different kinds of dishes. In traditional chicken and sausage gumbo, we'll always use a neutral oil (like vegetable or avocado) and all purpose flour. We cook this down, stirring frequently, for a while, sometimes up to an hour, until it's a dark chocolatey color.
I also like making my own stock using the chicken carcass and some extra vegetables. This will really bring the most in depth and delicious flavor to your gumbo, in my opinion!
What You'll Need
For the Stock:
Large stock pot
Picked rotisserie chicken carcass
Stock vegetables like onions, celery, garlic, carrots, etc.
For the Roux:
All purpose flour
Neutral oil (vegetable, canola, avocado)
Whisk
Bamboo flat spoon like this one
Large dutch oven or pot
For the Gumbo:
The "trinity" vegetables: onion, celery, bell peppers
Garlic
Picked rotisserie chicken meat
Pound of andouille sausage
Spices like bay leaves, cajun spice (Tony's or Slap Ya Mama's), cayenne, salt, pepper
Worcestshire sauce
Hot sauce
Cooked rice, separately
See the recipe card below for detailed step by step and measurements!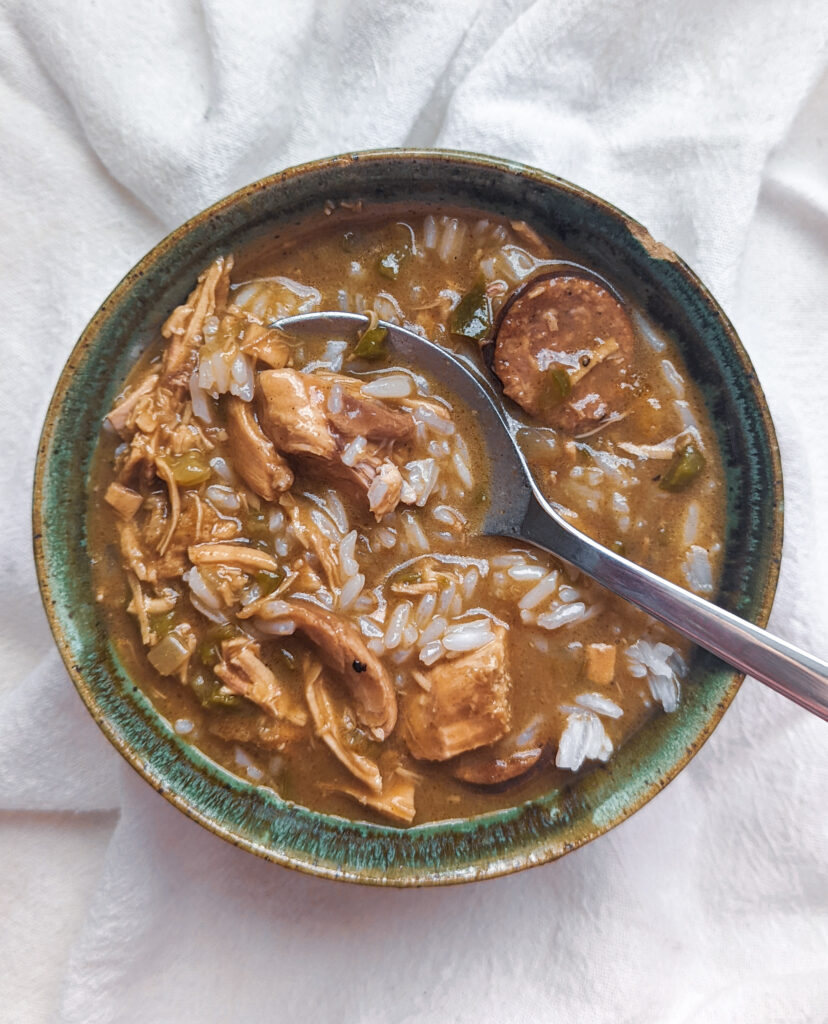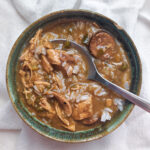 Print Recipe
Traditional Chicken and Sausage Gumbo
A New Orleans style chicken and sausage gumbo with a roux
Ingredients
Stock Ingredients
8-10

cups

water

1

picked chicken carcass

2

stalks

celery

1/2

onion

2

carrots

any other stock veggies you'd like to add

2

tbsp

kosher salt
Roux Ingredients
1

cup

neutral oil

1

cup

all purpose flour
Gumbo Ingredients
1

cup

green bell pepper

diced

1

cup

sweet onion

diced

1

cup

celery

diced

2-3

cloves

garlic

minced

1

rotisserie chicken, picked

1

pound

andouille sausage

sliced and browned

8-10

cups

stock

2-4

tbsp

hot sauce

2-4

tbsp

worcestshire sauce

2-3

bay leaves

salt, pepper, cajun seasoning, cayenne
Instructions
Before you start, make sure to chop your veggies, pick your rotisserie chicken, and brown the sausage. Mise en place is crucial in easy gumbo making.
Make The Stock
Add the carcass, water, vegetables, and salt to a large pot and bring to a boil. Reduce to simmer and allow to simmer for many hours. All day is best!

Strain the stock before you start your roux and set aside, keeping it warm.
Make The Roux
Heat the oil to medium heat in a large dutch oven or pot.

Add in the flour and whisk constantly.

Continue to whisk/stir with the spoon until it turns a nice dark chocolatey brown, reducing the heat a little bit every 5-10 minutes until you're working on low heat. This may take up to an hour. I generally cook my roux for 40 minutes or so.

Never stop moving the roux. Get comfortable over that stove! If the roux burns at all, you'll need to start over. Burnt roux = bad gumbo!
Putting Together the Gumbo!
Once the roux is browned to your liking and on low heat, carefully add in the chopped vegetables and stir well. Allow them to cook down in the roux and soften for 5 minutes or so. Add a little salt at this stage.

1-2 ladles at a time, add in the stock, fully stirring between ladles. Really incorporate the roux and stock together.

Add in the picked chicken and browned andouille

Stir in the seasonings, hot sauce and worcestshire, and bay leaves. Measure with your heart. Taste as you go.

Allow to simmer for at least an hour, if not more!

Serve over rice and enjoy.
---
---