Pesto Ricotta Pappardelle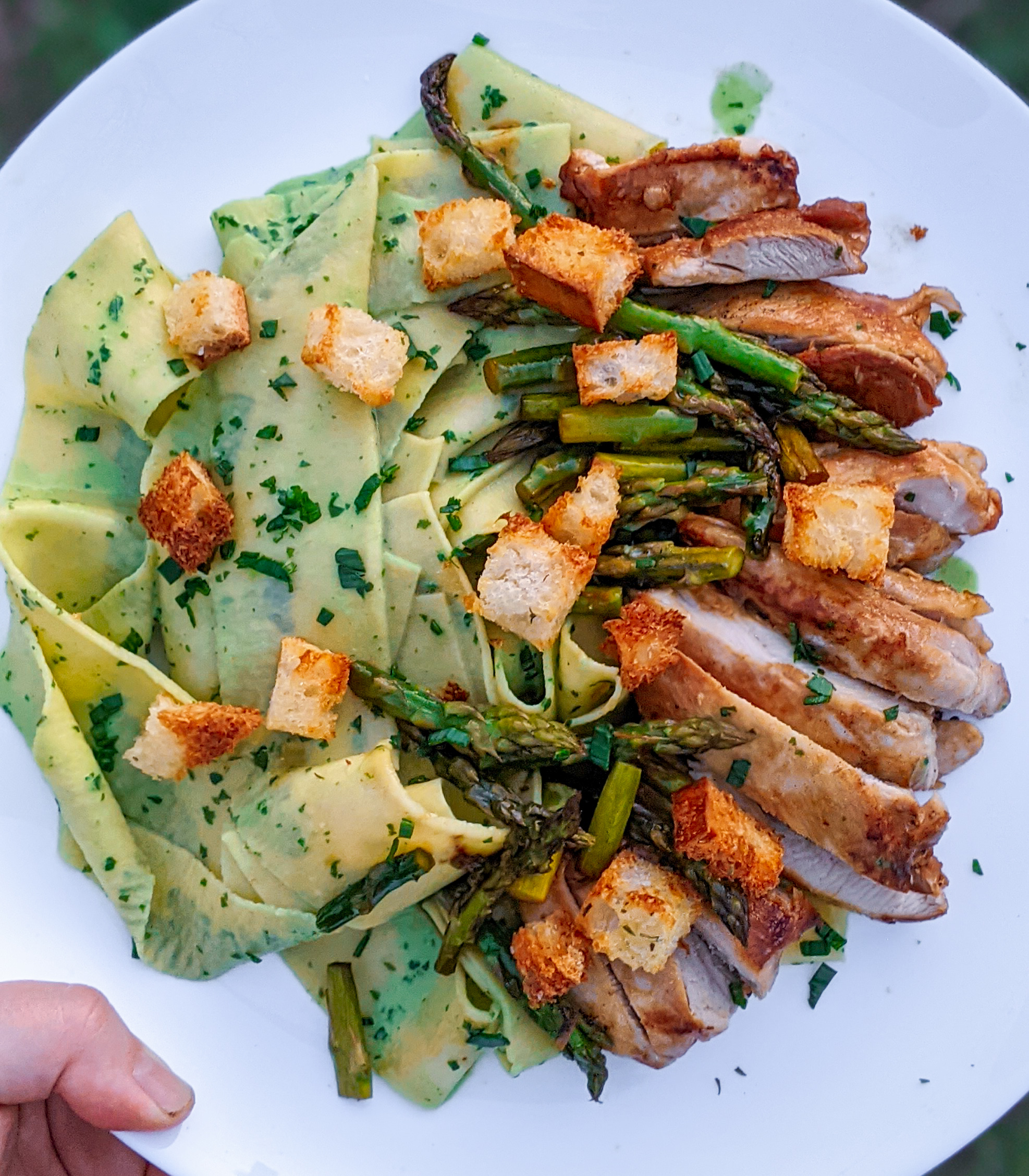 This pesto ricotta pappardelle was one of the best dinners I have made in a long time, so I had to put it on the site as soon as possible as to remember what I did. I took a class with Meryl from Pasta Social Club today. We made herb laminated pappardelle and it was a blast. She has a recipe for it here.
I highly suggest taking one of Meryl's classes, or at the very least checking out her recipes on her site, instagram, or Food52. This pesto ricotta pappardelle was inspired by the herb laminated pasta we made in the class, combined with having way too much filling leftover.
First, you're going to want to make your homemade pappardelle! If you're not doing this, then buy some from your local Italian market. You can also use whatever kind of pasta you want 🙂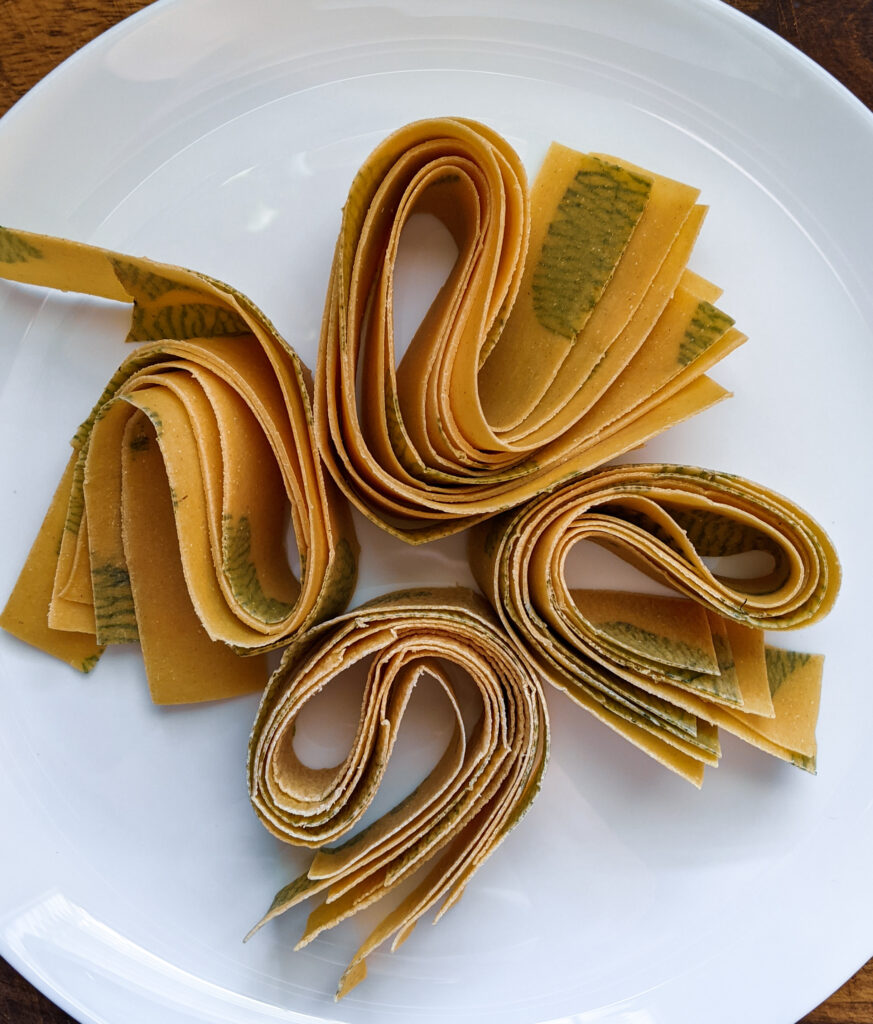 The pesto ricotta sauce
What you'll need:
1 8oz tub of whole milk ricotta
1/3 cup freshly grated parmesan reggiano
1 cup fresh baby spinach
1 cup basil leaves
1 tbsp lemon juice
Big pinch of salt
2 tbsp pasta water*
*You'll add the pasta water after your pasta cooks, of course!
Combine everything except the pasta water in a food processor and blend until smooth and slightly whipped – give it about a minute! Place in the fridge until everything else is ready.
Chicken and asparagus
This isn't necessary, but it really completed the dish for me.
1 pound chicken thighs
1 bunch asparagus, trimmed and chopped
2 tbsp worcestshire sauce
2 tbsp tamari (or soy sauce or coconut aminos)
Preheat your oven to 425 degrees. Marinate your chicken in the worcestshire and tamari. Start on the stove with an oven safe pan (I always use my cast iron). Heat it to medium-high heat and add in the marinated chicken. After a few minutes, flip the chicken and add in the asparagus.
Transfer to the oven and cook for about 15 minutes, or until a meat thermometer reads at least 165 degrees in the thickest part of the chicken thighs. Remove from the oven once cooked.
Putting it together
Boil your pappardelle according to the directions. If you've made it fresh, you'll want to boil it for about 2 minutes in VERY salted boiling water.
Add your pesto ricotta to a large pot while the pasta is boiling. Add 2 tbsp of the pasta water to the sauce and stir it up. Once the 2 minutes is up, transfer the pasta to the sauce and toss together.
Serve with the chicken and asparagus. Top with more herbs and sourdough croutons or breadcrumbs if desired!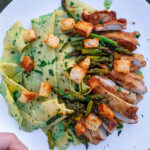 Print Recipe
Pesto Ricotta Pappardelle
A pesto ricotta recipe to go with fresh pasta and chicken and asparagus!
Ingredients
1

8oz

whole milk ricotta

1/3

cup

parmesan reggiano

freshly grated

1

cup

fresh baby spinach

1

cup

basil leaves

1

tbsp

lemon juice

pinch

kosher salt

2

tbsp

pasta water
Instructions
Combine everything EXCEPT pasta water in a food processor and blend until smooth and whipped – give it about a minute.

Cook pasta according to directions (more information in blog post).

Add the pesto ricotta and the 2 tbsp of pasta water to a separate pot. Transfer the cooked pasta from the boiling water to the sauce and stir.

Serve with chicken and asparagus (more information in blog post) or with whatever else you desire!
---
---